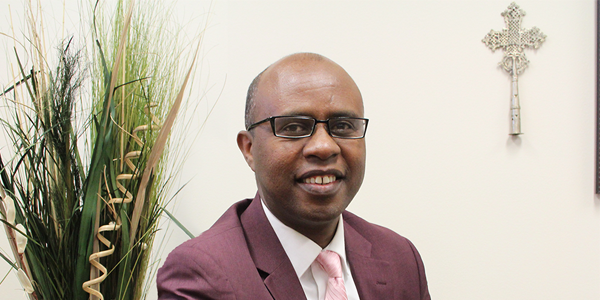 Yared Halche
Facilitator for Inter-Ethnic Mission Engagement
Office: 260-415-5579
"Raising Missionary Leaders, Multiplying Missionary Churches."
Yared Halche was born and grew up in Ethiopia. He studied theology in Ethiopia, Norway and the United States. He earned his PhD in missiology from Concordia Theological Seminary in Fort Wayne, IN, in 2009. Yared is married to Bethel and the Lord blessed them with two children.
Yared started serving in the Lutheran Church of Ethiopia as a youth leader during the difficult communist era. His professional career started as a seminary teacher in south Ethiopia and continued as a missionary and mission developer in the United States. He served as a regional director for African Immigrants Ministry in the West coast. He pastored a congregation in Indiana that has members from 17 different African countries. He currently serves as Mission Engagement Facilitator with the focus on Interethnic Mission Initiatives in the Southeastern District.
Yared serves with others under the mandate of Christ's great commission that focuses on raising missionary leaders and multiplying missionary churches in an ever culturally changing world.
As part of SED's mission objective, our Interethnic mission leadership seeks to see a mission movement as people connect with Jesus and help others connect with him through proactive evangelistic and discipleship engagements and initiatives in the district. Thus, our outreach methods are clearly built around: leadership development, church multiplication and bridging outreach ministries among existing and new congregations.
We live in the age of global migration. There are about 1 billion internal and international migrants in the world. The largest international immigrant population resides in the USA. Many of these new people groups live in close proximity with our urban and suburban congregations. A growing number of Christian immigrants and church leaders are joining our congregations and are strengthening our Christian life and mission work in various ways. Sharing common Christian faith with our global brothers and sisters help us to effectively engage in neighborhood evangelism and world mission at the same time.
Today's rapid socio-cultural change with all its challenges also presents ample opportunities for evangelistic connections especially among the younger generations and urban dwellers. We seek to develop leaders in a contextually proper way and multiply the Lord's work through them wherever the Holy Spirit send them out. The harvest is plenty. We pray that the Lord multiplies messengers of the gospel in our neighborhoods and multiply discipleship communities. And yes we pray that the Lord multiplies missionaries and missionary churches in the SED and beyond.