Lutheran Schools Week 2023

---
The microschool opportunity
Click here to download the Powerpoint from Soaring Education Services
Microschooling has recently emerged as a noteworthy and growing phenomenon in U.S. education. The opportunity for LCMS congregations and schools includes the utilization of microschools as a solution for serving children in their communities. Traditional schools require significant financial capital, larger enrollments and staffing, and facilities large enough to fit a larger student body. Microschools can open quickly in non-traditional spaces and require a much less up-front financial investment. In addition, microschools can reduce risk to a congregation or schools while offering a way for smaller churches or schools to consider growing or adding to their educational ministry.
---
in case you missed it: sedlec 2022 - plenary sessions
Megan Miessler, part 1 Megan Miessler, part 2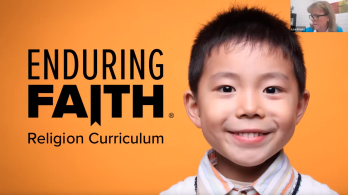 Lisa Krenz
---
A Message to the schools and faculty of the southeastern District, lcms
---
Lutheran Schools promote Gospel outreach, foster relationships, and exemplify excellence in Christ-centered education to families in a constantly changing world
Lutheran Schools Week 2022 - Tom Kolb, Facilitator for Schools, Youth, and Family Ministry
NEW! Please click the button below to be directed to School Classifieds
**** June 17, 2020 - In light of the recent events impacting our country, we know that individuals and schools are looking for resources to address the topic of racism with their students, teachers and families. On LuthEd.org we have pulled together a list of resources from the LCMS and other sources that may be of a benefit as we all work to confront this challenging topic. If there are additional resources that you are aware of that would be beneficial to our schools, please send them my way and we will evaluate their addition to the current list.
Racism Resources for Lutheran Schools: http://www.luthed.org/2020/06/11/racism-resources-for-lutheran-schools/
Desired Outcomes
Lutheran Schools (EC-12th) are able to sustain full enrollment and funding to support the program.
Gospel-centered Lutheran schools are the schools of choice in their community.
All staff of Lutheran schools exhibit a Christian lifestyle, meet or exceed state standards and participate in continued growth opportunities, including spiritual.
Lutheran schools are on the cutting edge of use of technology.
Lutheran schools embrace the diversity of their communities.
Lutheran Schools are the front line of mission outreach in their congregations and communities. Only a small percentage of students in our Lutheran Schools are members of the sponsoring congregation. A large number of students have self-identified as having no church home or relationship with Jesus. The opportunity to share Jesus abounds.
Regular events for District schools and early childhood programs are offered in the SED. They include:
· SEDLEC -fall educators conference - with speakers and workshop sessions and anniversary celebration
-Early Childhood Leaders Conference - held annually usually in March
· SEDLAC - School administrations conference - for school and early childhood program administrators. Held in February.
Downloadable Resources:
Student Physical Privacy Policy Letter
Model Student Physical Privacy Policy
LCMS Child Sexual Abuse Policy
USSS NTAC Enhancing School Safety
Teacher Observation - Notesheet
eRate Program, LLC - Every public and private school in America is entitled to their share of the $2.2 billion erate fund every year. eRate is a consulting service that can help you with the process of receiving these funds.Visit their website for more information and current forms.
School Links
LuthEd - the LCMS school portal for resources and information. You will find links to National Lutheran Schools Week, School Leadership Development (SLED), Form 5578, NLSA, Church Worker Update (CWU), Commisisoned Minister Information Form (CMIF), and Statistical Reports.
Lutheran Education Association
Protect My Ministry - background screening
LCMS School Ministry - from this page click the tabs under resources for the following information -
National Lutheran School Accreditation (NLSA) - a process of self-evaluation followed by a visit of objective observers designed to help Lutheran schools improve the quality of their program. Currently this information in on the Lutheran School portal and it is password protected.